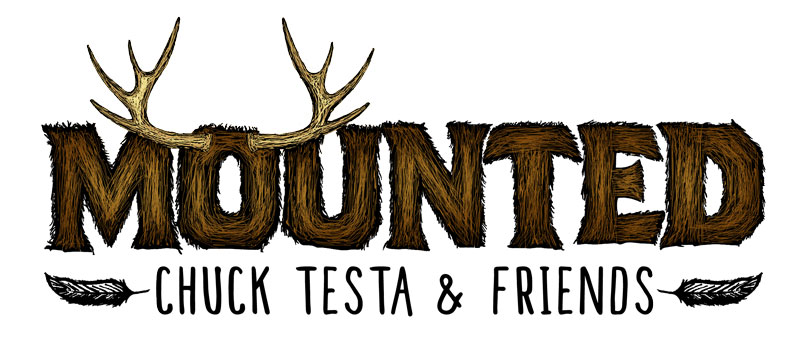 DETROIT, MI — October 13, 2016 — NOPE! Chuck Testa is alive and stitching. His new original series "Mounted: Chuck Testa and Friends" debuts on CarbonTV on October 13th. The show features Chuck and his friends as they go about their uniquely fascinating lives centered around Chuck's taxidermy business: Ojai Valley Taxidermy, in Ojai, California. This series is available on-demand for free on www.carbontv.com and related CarbonTV OTT apps.
The taxidermy legend became an internet star, when his NOPE! video went viral on YouTube, exceeding 16 Million views and becoming a meme juggernaut across the web. Chuck's video has been featured on Funny or Die, Buzzfeed, CBS, and dozens of other outlets. TIME included Testa in their top 10 best memes of 2011. Chuck has done cameos on Cable TV shows, appeared in several commercials, and was recently featured on CarbonTV's 'American Elements' documentary series.
Testa's trusted assistant, Jeff Davis, an artist specializing in bird taxidermy, is also featured in the series along with other 'family' members and special friends.
"Chuck is so much more than the meme that made him popular," said Daniel Seliger, EVP of Content and Marketing at Carbon Media Group. "He leads a truly interesting and authentic life. We hope the Mounted series will give the Internet what it craves most: More Chuck Testa."
A #GetMounted sweepstakes is running this October on CarbonTV to give viewers a chance to win a trip to Las Vegas to meet Chuck Testa, among other prizes. Viewers can enter at www.CarbonTV.com/sweepstakes.
Watch "Mounted: Chuck Testa and Friends" on CarbonTV: www.CarbonTV.com/shows/mounted-chuck-testa-and-friends.
About CarbonTV
The best of what's happening outdoors is happening here. With more than 120 shows and millions of monthly views, CarbonTV is the leading online streaming destination for outdoor and rural lifestyle video. CarbonTV is the digital home to acclaimed shows, such as American Elements, Bone Collector, Heartland Bowhunter's Behind the Draw, Major League Bowhunter, Mega Truck Series and the RideTV network. All video content is available on demand, for free at CarbonTV.com and through the CarbonTV app available on iOS and Android, Roku, Samsung Smart TVs and Xbox One. To learn more, visit www.carbontv.com. Download the iOS app: http://apple.co/1Niz17J or the Android App: http://bit.ly/2ccI18C. Connect on Facebook: https://www.facebook.com/CarbonTV.