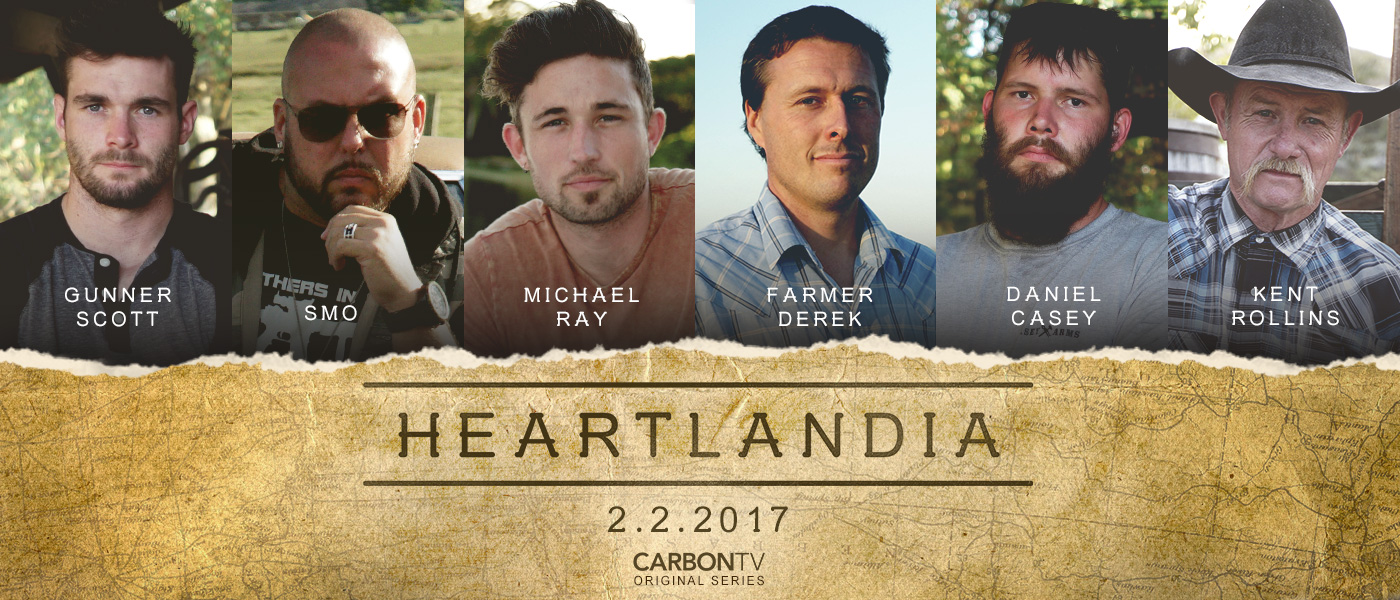 DETROIT, MI — February 2, 2017 – CarbonTV debuts new original web-series "Heartlandia," with a focus on movers and shakers in the American Heartland. The hosted, destination series takes viewers on an intimate journey into the lives of interesting personalities living and working in what some refer to as the Flyover states or The Middle. "Heartlandia" is available on-demand for free on www.carbontv.com and related CarbonTV OTT apps.
The initial batch of episodes features a visit with country rapper SMO to hear about his recent life-changes, and his love of the Second Amendment; a victory lap with country music star and hometown hero Michael Ray; a trip to the forge with gunsmith Daniel Casey who is best known for his History Channel show Iron & Fire; an unexpected adventure with YouTube star and Agriculture ambassador Farmer Derek; and finally a ride on the chuck wagon with legendary cowboy cook Kent Rollins. Each episode is hosted by rising country singer and former USMC Scout Sniper Gunner Scott.
"In the post-election era, there's been an increased interest in the culture, values, and beliefs of Middle America. Heartlandia, helps fill the void by allowing viewers to experience the lives of some of the Heartland's most fascinating individuals" says Daniel Seliger, EVP of Content and Marketing at CarbonTV. "It was never intended to be political, but it does give insight and an unvarnished voice to the values of the people who recently elected our 45th president. It's not the Middle. It's the Center."
Watch "Heartlandia" now: http://www.carbontv.com/shows/heartlandia
About CarbonTV
The best of what's happening outdoors is happening here. With more than 120 shows and millions of monthly views, CarbonTV is the leading online streaming destination for outdoor and rural lifestyle video. CarbonTV is the digital home to acclaimed shows, such as American Elements, Bone Collector, Heartland Bowhunter's Behind the Draw, Major League Bowhunter, Mega Truck Series and the RideTV network. All video content is available on demand, for free at CarbonTV.com and through the CarbonTV app available on iOS and Android, Roku, Samsung Smart TVs and Xbox One. To learn more, visit www.carbontv.com. Download the iOS app: http://apple.co/1Niz17J or the Android App: http://bit.ly/2ccI18C. Connect on Facebook: https://www.facebook.com/CarbonTV.